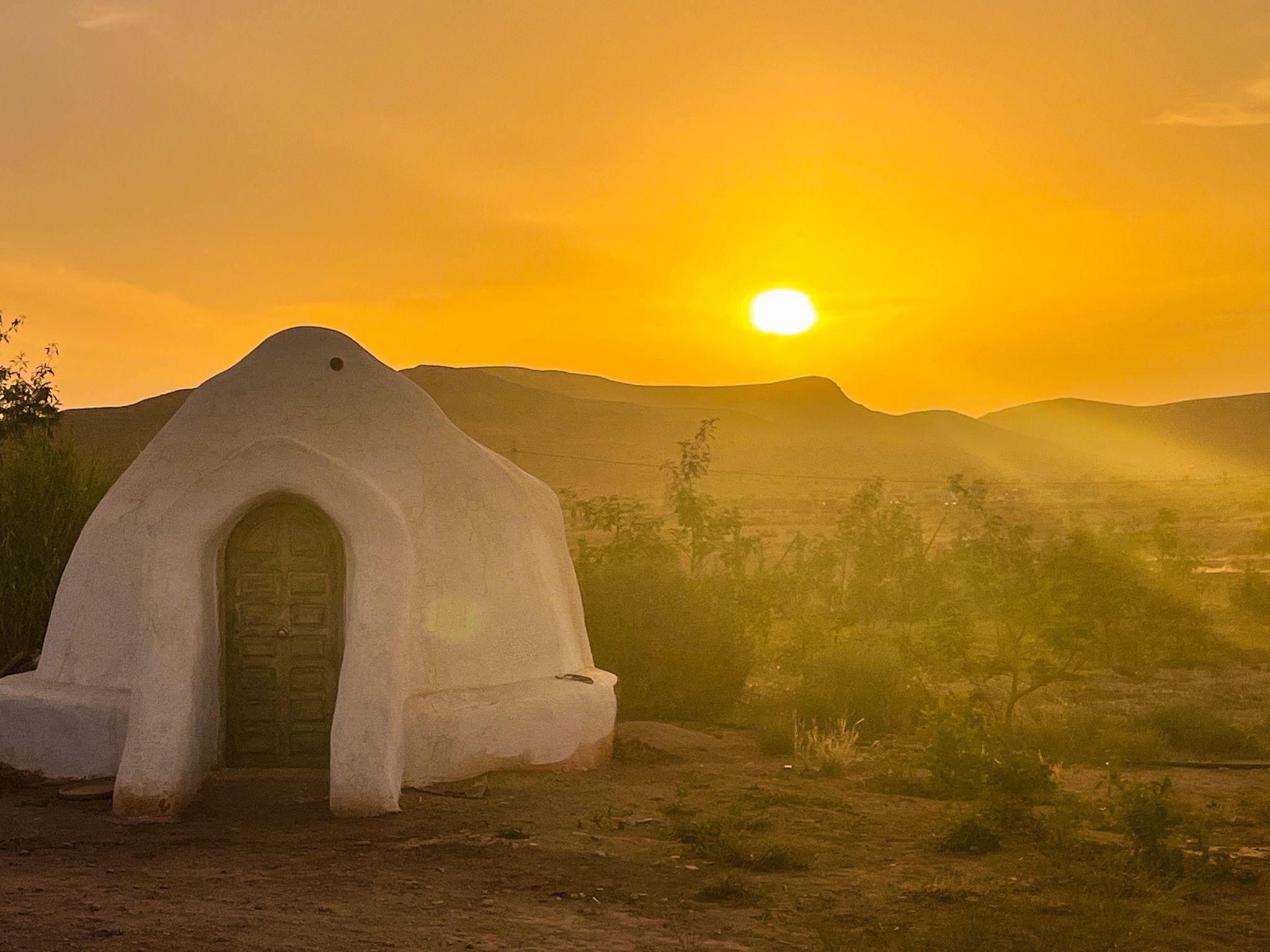 Sustainable Practices: Learning About Tunisia's Amazigh Community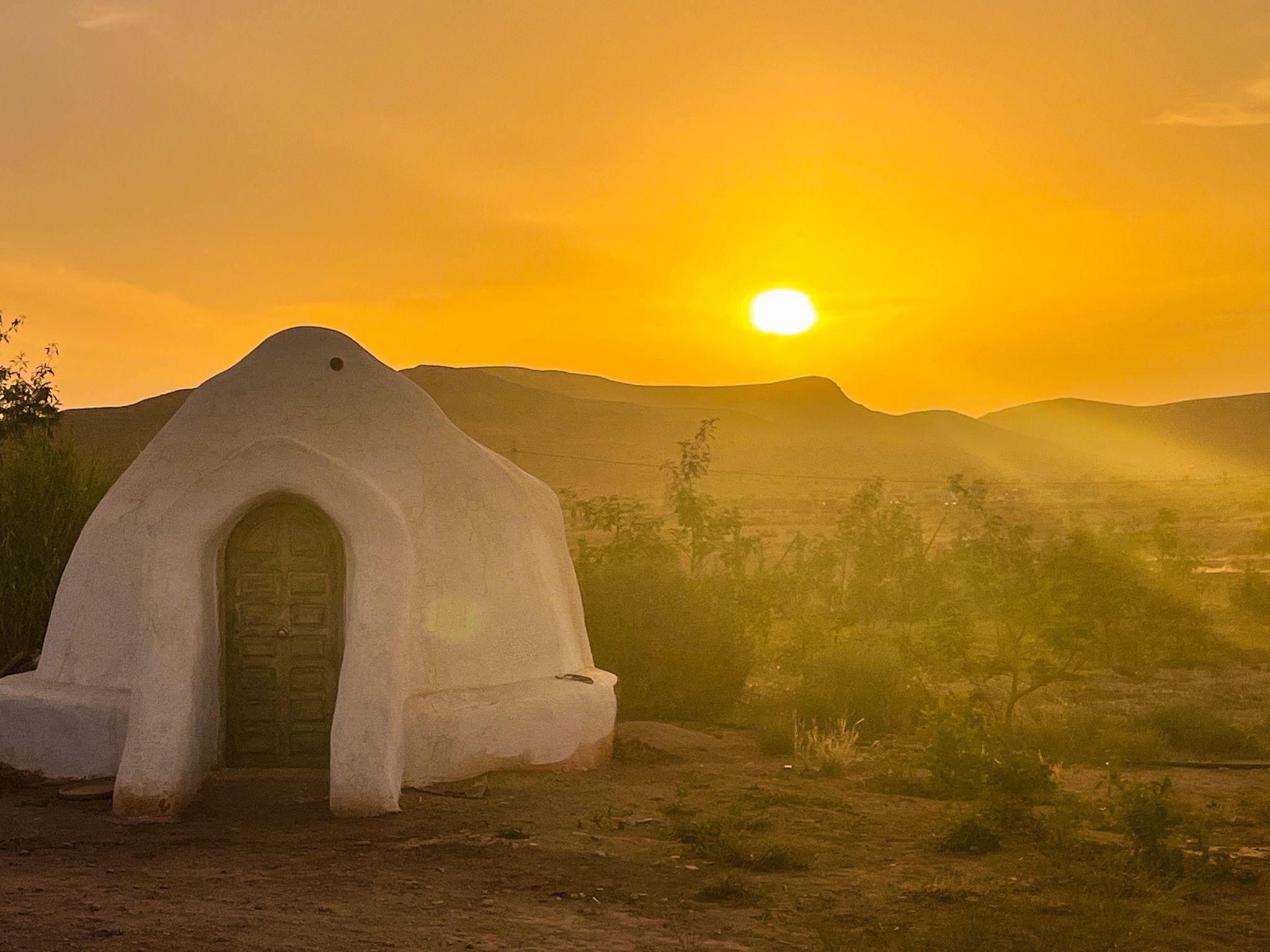 Lessons from Dahar's Amazigh Community
Aisle 16, Seat A — A window seat! — I thought to myself as I stowed my carry-on after a short layover in Frankfurt on my way back to the US from my family home in Tunisia. Like many other hyphenated US Americans, I make a trip back to visit family and keep my identity as a Tunisian alive nearly every summer. Sitting down, I noticed the gentleman beside me had a pendant around his neck: the symbol of the Amazigh community. I complimented the necklace and learned he was Algerian. He asked me where I was from. 
"I'm Tunisian-American." 
"Then you are Amazigh, too." 
What ensued was a two-hour-long conversation about Amazigh history, culture, and language — much to the annoyance of our fellow passengers. When I showed him a picture of my grandmother, he showed me a picture of his own mother. She was wearing the same garments with similarly red hair dyed from henna and face tattoos holding blessings and protection. It was a healing and validating exchange of an identity that has survived against all odds.
My family is from a rural part of Tunisia's Sahel region, about two hours south of the capital. Despite surrounding ourselves in Amazigh culture, Arabization successfully distanced us from our roots. In the 70s, the traditional clay houses in our village were torn down and replaced with more "modern" and impractical stone buildings. Around the same time, Amazigh words in our dialect began dying out. This was my father's generation. They were taught "proper" Arabic due to a governmental effort to modernize Tunisia at a time when Amazigh community was connected with rural sustainable practices, in contrast to the idealized Western model of industrialization.
Unfortunately, this is a reality that most of my community in Tunisia acknowledges as a type of necessary evil rather than a grief-worthy loss of our identity. This mindset is likely because we are those Tunisians who directly benefited from President Bourguiba's urbanization efforts, unlike those who faced forced removals and brutal assimilations. 
Meeting Dahar
This past fall, I had the honor of interviewing numerous business owners in the Dahar region as part of Solimar's Destination Dahar efforts to increase tourism in the area. In getting to know the destination, my understanding of my country's heritage greatly evolved. The region is home to some of Tunisia's few remaining Amazigh communities, and this preservation of heritage was discussed in nearly every conversation I had with locals. Many of these individuals spoke Tamazight, the language of the Amazigh community, as their mother tongue. They shared with me the food they put on their table, the nature of the homes in which they reside, and how they continue to not only preserve, but celebrate their culture and region.
Within each conversation, I noticed a common thread: a desire to thrive alongside the natural environment of Dahar. The traditional homes of the Amazigh weather the desert's extreme high and low temperatures with year-round comfort. The region's farmers have a keen interest sustainable practices such as permaculture to respect the native fauna and flora, and water collection strategies work with the flow of the mountain — literally. Permaculture is an agricultural style that promotes a biodiverse, resilient ecosystem that can exist in synergy with the native environment. 
It made me wonder how much "modernization" cost Tunisia. We abandoned our indigenous wisdom while idolizing foreign powers whose lifestyle was not only oppressive to our own identity as Tunisians, but incompatible with the realities of North Africa. 
What is Sustainability 
According to the United Nations, sustainability is "meeting the needs of the present without compromising the ability of future generations to meet their own needs." Such development requires a minimal carbon footprint, mindful use of resources, and support for local communities. Sustainability stands at the core of Solimar's goals in any project, including Destination Dahar. As the threat of climate change increases and dangerous consequences reverberate worldwide, the path forward demands sustainable solutions to slow down the overconsumption and incredible amounts of waste that have already begun to plague the Earth. However, when it comes to sustainability in the Dahar region, mitigating scarce resources and extreme weather conditions has been a part of the Amazigh community reality for thousands of years. 
In a memorable conversation, Radhouan Tiss of Domaine Ouled El Khil (located in the village of Ghomrassen in Dahar) emphasized the importance for us as a human race to "partake in sustainability and environmentally-friendly practices" in response to the challenges of climate change. 
Amazigh Homes, an Example of Sustainable Practice 
Radhouan Tiss runs an eco-lodge and permaculture farm with his family in an effort to educate visitors about sustainable living. However, the methods which Tiss uses are nothing new. In fact, Tiss enlisted village elders to help him create his ecologically friendly homes in the traditional isothermic Amazigh style. 
From a foreign perspective, it would be easy to assume that the extreme temperatures of Dahar's desert would come to appalling heating and cooling bills depending on the time of year.  The reality is rather to the contrary; the building style of Amazigh homes is naturally insulative, requiring no central heating nor cooling. "They are very good for insulation. They stay cool in summer and warm in the winter," explained Tiss. "It is an environmentally friendly way of living… The houses are made from the same material and with the same technique as the ksours: from gypsum and clay." Ksours, typically in the physical center of Amazigh communities in the region, are storage facilities meant for grain or other foods which are critical to store at a stable temperature. 
The homes in Ouled El Khil are domed structures, but the structure changes depending on the specific village's topography. For example, the isothermic dwellings are carved into mountainsides in more mountainous areas. Others may be built below ground, called "troglodyte" dwellings in English. For Star Wars fans, Luke Skywalker's home on Planet Tatooine was literally inspired by these structures. For evidence, one does not have to look very far, as Star Wars creator George Lucas named the planet after the region's real name. Go ahead, check a map! Tataouine, Tunisia — inspiration to Star Wars and sustainable solutions alike. 
Agriculture Sustainable Practices
Permaculture is a type of farming that has only been recently defined, yet practiced for millennia in indigenous cultures… it was mentioned to some degree in nearly every interview I had with an individual from the Dahar region. 
Madame Leila Gamar of La Cuesta explained, "gardening is a specialty of the house," and most of the food she serves her guests comes directly from her backyard or the local area. In particular, she grows an array of fruit trees that flourish in the region: date, fig, and pomegranate. From the fruit, she makes jams and juices to serve year-round, but during the respective season of each tree, Gamar offers the produce fresh. Farm-to-table style local agriculture is one of the most sustainable methods of food consumption, reducing transport waste and supporting small business owners.
The Olive Reigns Supreme
Similar to most Mediterranean cultures, the olive tree holds immeasurable cultural and culinary significance in Tunisia. Dahar is certainly no exception, with most families having a certain number of olive trees they harvest annually. A portion of this olive oil is typically sold for profit, while a portion is kept to cushion the family's supply of the household staple until the next year. 
Tarek Hasnaoui of Diar Toujane described the winter harvest season to me in detail, describing it as an exciting time to be in Dahar. "In the time of the olive harvest, guests are invited to pick olives and learn about the process," explained Hasnaoui, "January is the peak season for harvesting the black olives. They still press the olives in the traditional style, with donkeys stomping." 
In another example of agriculture sustainable practices, the olive oil harvest is a tradition in Tunisia going back as far as written history can denote. The community cultivates the local trees, and the knowledge of how to upkeep the orchards is kept within communities responsible for caring for them. The traditional method of pressing the olives, using the force of a donkey's stride rather than a machine press, adds to the sustainability of the practice by reducing carbon emissions. The result is a delicious oil with a freshness and purity far superior to the green bottles on grocery store shelves. 
Sustainable Irrigation Practices
Located where the Sahara meets the Mediterranean, Dahar faces the ever-increasing threat of water scarcity. Due to climate change, the dry environment is only being exacerbated. At the time of writing, it has not rained in the region for three years. Historically, Dahar could expect rain on a somewhat regular basis. Over the centuries, the Amazigh community developed a unique irrigation technique complemented by the mountainous topography. Walls, not unlike dams, are built at the foot of slopes, such as towards the base of a hill, to collect run-off water for use. These structures are called jessours, or jessr in singular. One of their primary functions is to gather water for the purpose of irrigating fruit trees and agricultural crops. By collecting water, jessours help provide much-needed hydration to these plants, aiding in their growth and ensuring their health. They can be utilized for groundwater replenishment through a process called infiltration. The water collected in the jessours seeps into the ground, recharging the underground water sources. This is beneficial for maintaining a sustainable water supply and supporting the overall water cycle.
This water conservation method supports the natural flow of water without intruding on natural ecosystems, which is often a major concern when implementing dams. Therefore, it is an environmentally friendly method to use rainwater efficiently to fulfill the community's needs. 
An Example for the World
Dahar is a brilliant example of the ingenuity of indigenous peoples, whose cultures and ancient wisdom have developed alongside the land they still cultivate. The Amazigh community demonstrates a way to survive with respect for the Earth in even the harshest environments. Many of the individuals I interviewed in this project hope that their work will serve as a model for sustainable home and community construction, especially in similarly arid climates. Tactics such as adobe homes and permaculture agriculture for food production can be very beneficial. Looking towards the Amazigh people in the fight against climate change will be a critical step for Tunisia, a return to our roots and an amendment to the culture our nation abandoned in misguided attempts to modernize at our country's own expense. 
Want to learn more about how we are working to develop sustainable tourism in Tunisia? Check out Solimar's USAID Visit Tunisia Project https://www.solimarinternational.com/project/visit-tunisia/
Tags: #regenerativetourism, #solimarinternational, #Sustainabletravel, Amazigh Community, sustainable practices, sustainable tourism, visit tunisia