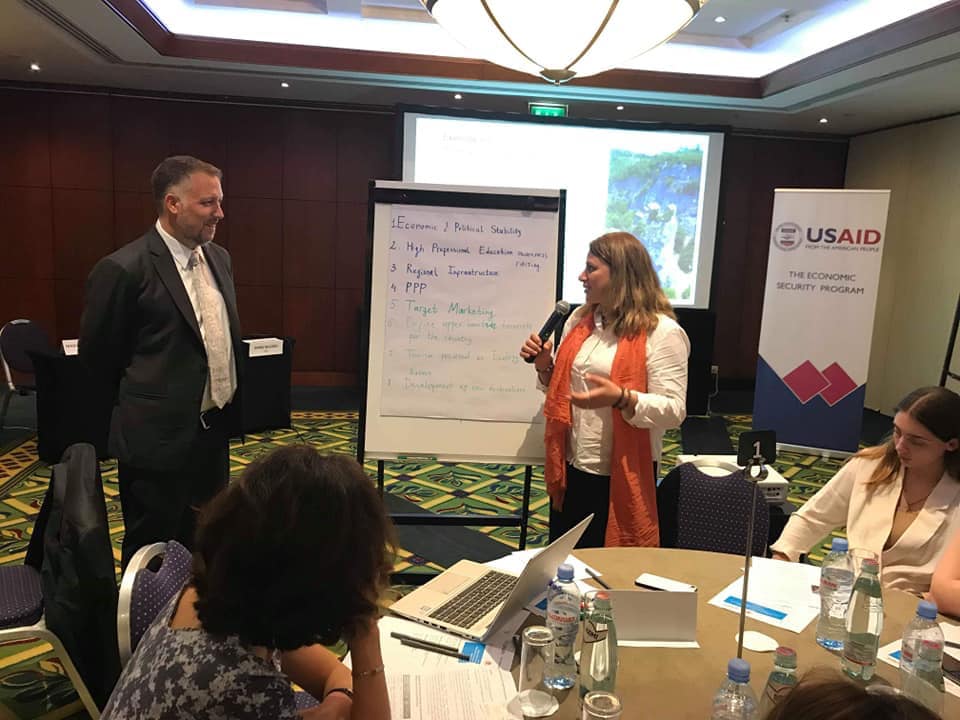 Solimar returns to Republic of Georgia to help launch USAID-Economic Security Program
Economic development in a region involves a myriad of inputs from stakeholders. Due to the multi-faceted nature of tourism, improving this industry is a good way of stimulating growth in other sectors from accommodations to transportation to the creative arts. This week, Solimar returned to the Republic of Georgia (where we worked previously to help develop national and regional tourism plans) and is now assisting the United States Agency for International Development (USAID), DAI, and the Georgia National Tourism Administration (GNTA) through the USAID-Economic Security Program to use tourism as a means to diversify and strengthen the economy.
The Republic of Georgia is an incredible country with a number of tourism assets. Mountain ranges rise up over the land and provide magnificent hiking. The land is dotted with monasteries and castles; the remains of royalty and religious leaders. Ancient cities full of history, wineries, and sulfur baths provide a cultural experience no matter the city a visitor chooses to see. To the west, Georgia borders the Black Sea and provides a relaxing shoreline atmosphere. The country has tremendous opportunity for growth in the tourism sector, which will first be explored through a facilitative value chain development approach.
A tourism value chain analysis looks at industry performance, visitor profile, end-markets, competition, and binding constraints to growth through research and stakeholder input in order to find the needs of the market. Earlier in July, Solimar tourism experts met with a number of local stakeholders to identify what needs to be supported in order to combat these issues. With this information, the ESP will use "smart incentives" to invest in the solutions with the market actors themselves. USAID will also use their new Private Sector Engagement Policy to facilitate the creation of public-private partnerships. This process of analysis ensures that the entities affected by the industry are at the center of controlling its growth and creating its solutions. The development of this value chain was managed in three major parts:
Tourism Planning Committee: The GNTA and ESP formed a tourism action planning committee with major stakeholders and government agencies to conduct the tourism chain analysis.
Research and Survey: Research was conducted on Georgia's tourism performance, visitor profile, competition and other aspects of the current tourism value chain. The ESP and Planning Committee also conducted surveys and interviews of Georgia's key stakeholders in Tbilisi.
Validation and Action Planning Workshop: The initial Tourism Value Chain Assessment was presented to a group of public and private stakeholders at a one-day tourism workshop on July 25th. During the meeting led by Chris Seek, Solimar CEO, stakeholders defined the necessary actions and investments and compile the information into a 2-year Tourism Action Plan to strengthen the tourism industry.
The entire project is focused on using multiple industries to promote growth in the Georgian economy. Yet, Solimar's impact will be focused on growing tourism through the Tourism Value Chain. With an emphasis on this value chain process, we can promote collaboration among the various stakeholders and agencies and ensure meaningful solutions are implemented.