Celebrating Women In Tourism
International Women's Day deserves to be celebrated every day, especially in an industry that is comprised predominately by females. Inside the travel sector, women make up the majority of the workforce and earn almost 15% less. Solimar International knows first-hand how critical women are in pushing travel to new heights. The women in our organization have a wildly unique skillset that helps us to remain as a world leader in sustainable tourism consulting. These women – Natalie Sellier, Chloe King, and Jenny Lundt — collectively bring two Fulbright scholars, two Master's degrees, a Marshall Scholar, and numerous fellowships to our virtual offices day-in and day-out. 
Led and inspired by these women, each member of the Solimar community considered their own individual travel anecdotes in remembering these barrier-breaking women that champion tourism around the world and personify leadership, dedication, and forward-thinking.
Natalie Sellier
In 2011, I had the privilege of serving as an on-site assessor for the World Tourism and Travel Council's Tourism for Tomorrow awards. Intrepid Travel was up for the Global Tourism Business Award and I joined a group for their Classic Peru tour to evaluate how are they are putting their sustainable tourism philosophy into practice with local communities.  We were led off the beaten path by Alejandrina Punel, a wonderful and fearless Peruvian guide with over 10 years of experience in tourism. She taught our group words and common phrases in Quechua to facilitate communication and was committed to showing us the real Peru—including navigating local tuktuk mototaxis, shopping in local markets, sampling traditional foods, meeting local people, challenging them to volleyball games, and joining them as guests in their homestays. We visited recipients of the Intrepid Foundation (such as Escuela Wiñaypaq and the Living Heart Foundation) and ate a number of restaurants that donated a percentage of proceeds to these projects. Alejandrina would later explain that Intrepid empowers their local staff to complete the application process on behalf of organizations to be considered for support by the Intrepid Foundation. While a large travel company such as Intrepid can have all of the right policies in place on paper, Alejandrina made me realize just how critical having dedicated guides like her is to making it all work within the local communities—and for travelers to have a truly unforgettable experience.
Chloe King
Seven years ago, when I set out for Thailand at 18 with a bag full of dive gear and a heart full of uncertainty and thrill, I had no idea just how the next year would utterly alter the trajectory of my life, throwing me head first into the world of sustainable tourism development without ever having strung those three words together in a thought. After training to become a certified PADI Divemaster in Thailand, I moved to Labuan Bajo, Indonesia, home of the Komodo Dragon and a fast growing dive and ecotourism industry that had quadrupled in size over the past decade. I learned and absorbed every detail of an array of dangerous dive sites from local dive guides, born and raised on fishing boats to know the direction of every current, the hiding places of the strangest fish, and the depths and layers to each and every reef. I was in awe of their intuitive and nuanced understanding of hundreds of dive sites, and began working with a dive company on their program to train young local fishermen as dive guides and instructors. Walking into the shop one day, I met Sary. She had just turned 17, was shy and soft-spoken, and had just come to inquire about joining the training program, which up until then had certified only young men in the village. I watched as Sary began to uproot and rewrite the rules of what women could do in her community. Becoming the first local female divemaster certified in Labuan Bajo, she was every customers favorite guide, her eyes attune to the most minute colors and patterns that many of her male colleagues overlooked. She went on to mentor and train more young women in the community, proving to them that the industry was not just for men, and that it had the power to transform the lives of so many others. Sary would go on to become a certified Open Water Scuba Instructor, and challenge one more norm: she had her first child and, within months, returned again to the sea.
Stephanie Romero
In honor of Women's History Month, Nellie Bly's contribution to the tourism industry should not be forgotten. Inspired by the Jules Verne classic Around the World in Eighty Days, the premise behind the challenge was simple. Could Verne's fictional race be outdone? Sponsored by journalism pioneer Joseph Pulitzer in the hopes to break the record for fastest trip around the world and gain notoriety for his newspaper World, Nellie Bly began her adventure. What was fascinating about Nellie Bly's quest was how soon it captivated an international audience. A rival magazine publication soon sent their own envoy, a woman by the name of Elizabeth Bisland, to race against Nellie. And while her contributions to the travel industry are remarkable on their own merits, the focus of this paragraph is on Nellie Bly and her trailblazing story. Everything about Nellie's own story is what speaks to the soul of a patriotic narrative that Americans are inspired by when constructing their own paths. Born and raised in the working class coal country of America, Nellie Bly was the image of pulling oneself up by their own bootstraps. She broke through the male dominated scene of the journalism world and gained a name for herself with sensationalist and investigative articles for well reputed publications. When it came to embarking on her journey, she packed nothing more than a single suitcase and a small toiletry bag and soon ventured off. Nellie traveled the world on her own, without the presence or assistance of a chaperone. She had done so with an already established career, having decided to forgo the societal expectations of marrying and having children. At a time when a woman's narrative seemed determined to make women like Nellie comply with the passive and meek image, Nellie's contributions shattered barriers. Accomplishing the race and having completed the race ahead of schedule on her own proved that women are more than capable in any era.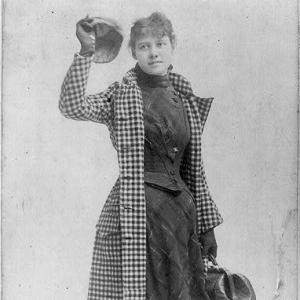 Shelby Amato
Kellee Edwards is a pilot and travel journalist with years of adventure experience under her belt. She is also the first black woman to host her own show, Mysterious Islands, on the Travel Channel. Towards the start of the pandemic in 2020, she interviewed with the Washington Post to discuss the future of travel. Edwards reflected in this interview on what a privilege it is to travel, as well as voice her concerns about the impacts of overtourism once lockdowns have lifted. As a trailblazer in the tourism industry, she hopes to continue acting as a model for respectful and mindful travel practices going forward.
Abrafi Ahmed
Milena S. Nikolova is an expert and researcher in behavioral economics in tourism with a global professional network and experience gained across four continents. She has worked on projects covering various aspects of sustainable tourism development, business/market development, and policy planning, as well as entrepreneurship and innovation. She is a co-founder of BehaviorSMART, a boutique consultancy that assesses the recent advances in behavioral sciences into actionable solutions that can be applied to daily operations by professionals in tourism and sustainability. She is an author of the Behavioral Economics for Tourism and has vast travel experience having worked in over 20 countries on a variety of sustainable tourism initiatives. Nikolova has been a lecturer at the Central University for over 15 years and holds a PhD in Consumer Behavior and Sustainable Tourism form the George Washington University School of Business.
Anastasia Vepkhvadze
A recent article in Wander-Lush highlights the top 10 women who are changing the tourism industry and breaking gender barriers. One of the women led tourist companies that stood out was 5Bogota.  This organization puts forward the importance of women in the recent development of tourism in Colombia.  The company, founded by a mom and her two daughters, is a prominent organization in the capital of Bogota with an all-female team. The women broadcast the importance of culture in Colombia with offerings centered around cultural activities like cooking and dancing. This business has influenced other companies to hire women in leading positions and has created a new environment in women in tourism.
Diana, one of the cofounders of 5Bogota stated in an interview that building a tourism company in Colombia was not an easy task in a country still facing gender inequality. 5Bogota is a shining example in the tourism industry for other women with entrepreneurial passions.
Maddy Hraber
Featured in the article 10 Female-Focused Travel Companies That Empower Women is Evolution Treks, a tour company based in Peru. Evolution Treks works to supply guides to take tourists through Peru's biggest tourist attractions: Machu Picchu and the Inca Trail. Where the company differs, however, is in the fact that it was the first in the country to employ women as porters for the tours. By doing so, women are given an opportunity at pursuing new sources of income in Peru's tourist industry.
While on the trips, Evolution Treks not only provides guests with an optimal experience and resources, but also makes sure to take great care of its employees. Both female and male porters are equipped with lightweight, high-quality camping gear to keep with them throughout the trips, and the company chefs who provide for guests make sure that the porters are well fed as well. All of these combined efforts make Evolution Treks stand out as a role model, and hopefully, other local companies will follow suit.
Nino Chkhaberidze
Every industry needs wonderful women like Ia Tabagari. I met Ia this year when we went with Sight Georgia to shoot her inn, ranch and brewery. I had always heard wonderful things about her, how she was pioneering in sustainable tourism development in Georgia and cheering for the industry, but listening to her was absolutely amazing.  Ia is a chairman of the Georgian Tour Operators Association, founder of the agro-tourism complex Lost Ridge Inn, Brewery & Ranch and founder of Geofilm Production. She is an ethnographer and an expert in sustainable tourism development in rural communities. Back when tourism was still very new in Georgia, Ia started to work as a tour guide and then soon established her own tour operating company. She has also handled the logistics for multiple documentary film crews working in Georgia. She is also one of the first people who started wine tourism in Georgia, which is booming now and is considered one of the main attractions in the country.
One can go on and tell so much about this amazing woman, but I will finish my section with her words from an interview that beautifully displays her passion and dedication: "I never take part in projects that do not serve the least interest of the country. Experience has taught me that the team and idea are inseparable, business does not exist without loyal people. Having a clear purpose in life is a challenge. It is this quality that empowers us to create and develop an idea. The main thing is to never forget the people who worked with us day and night to create and evolve."
Daniela Mastronardi 
For International Women's Day, World Footprints published an article celebrating some of the women in tourism actively engaged in improving the tourism industry and empowering local women in their communities. Two of the women featured are Carmen Portela and Mónica Pérez, who run a San Juan based and women-led travel company that working with their local community to create sustainable tourism practices. Portela, with over 10 years of experience in tourism, and Pérez, founded Local Guest as a direct response to the economic crisis in Puerto Rico. Local Guest provides unique tourism experiences in less visited parts of Puerto Rico. These "community based" experiences are curated in partnership with local community leaders and local business owners, many of whom are women and fall under one of seven categories: Adventure Nature, Artsy Scene, Body & Soul, Community Love, Foodies Galore, Party Vibes, and Water Escape. According to their website, Local Guest's experiential tourism is done, "for the benefit of the locals, their empowerment and their growth. The benefit of the environment by looking for eco-friendly solutions or mitigating impact. And fair-trade to bring true economic development of our region."
Derek Schimmel
Everything inside me felt out of whack. I had been away from home for 8 months when I plopped down at the bar of a guesthouse in Otres Beach, Cambodia. Though the rainy season was coming to an end, the lethargy of living out of a backpack had begun to take its toll. The joys of endless gallivanting were somehow, and unexpectedly, wearing off when Carrie, the owner of the establishment, appeared from behind the bar. Seeming to sense my dismay and state of disarray, Carrie slid a Cambodia Beer in front of me without so much as saying a word, allowing me to nurse my pint to completion before opening the dialogue. The conversation progressed quickly between us– I, a homesick traveler, she an expat business owner. I remember everything about that conversation like it was yesterday. Carrie moved to Cambodia some years before from North Carolina, and it wasn't long after her arrival that she was offered to buy this beachfront guesthouse/bar/restaurant. Carrie employed only local Khmer women, many of whom had been forced from their nearby village by a Cambodian government making space for a new Chinese-run casino. These women had lost everything, and Carrie had given them an outlet to provide for their families and preserve their way-of-life. As the local lager flowed, Carrie explained everything to me about her mission: building an enterprise that shows western-travelers the warmth and hospitality of the Khmer people, creating an outlet for the staff to cook local dishes and offer tours of their community, and donating a portion of all proceeds to fund a soccer team for local-area children. Carrie explained her role as a volunteer at a nearby school where she taught English to Khmer children, and she offered to bring me there the next day to meet some of her students. The next day, I took up residence at the guesthouse after Carrie set me up with a volunteering gig at the English/Khmer school and with a job at a neighboring bar. She provided everything I needed to build a home away from home. October passed quickly. November and December felt like a dream. Before long, four months had gone by, and it took everything I had to pry myself from the beach and return home. Those sunsets were hard to leave. Looking back, I'm reminded that it was here where I learned of the unique power of travel, a force that links unbridled joy with a master class in patience and cultural understanding. In hindsight, my time in Cambodia shined a light on everything I didn't know I was looking for when I set off backpacking 8-months prior, and it left my wandering spirit full of hope and with a vision of which direction to point my professional life. I also learned that only days prior to me planting myself at Carrie's bamboo covered bar, she had changed the name of the guesthouse. Atop the bar read a sign signaling the new name: Everything is Everything Otres.
Chris Seek
I remember the exact day when I realized how underrepresented women are in tourism leadership.  I was attending the World Travel and Tourism Council's annual Global Summit in 2013 in Abu Dhabi where the CEOs of the 100 leading travel and tourism companies come together and network with Ministers of Tourism and other high-level government officials. While watching another all-white male panel discussion, I noticed a tweet from an audience member and old friend Malia Asfor, the Director of the Jordan Tourism Board in North America, pointing out the lack of women on these panel sessions. That tweet opened my eyes to a growing disconnect, one where many of the people who run tourism companies and destinations are women despite the leadership is still dominated by men.  While some people may accept this, I quickly learned that Malia was not one of them.  I watched in admiration over the years as Malia has lead not only Jordan's tourism marketing efforts in North America with incredible passion and effectiveness, but also as she stepped into leadership roles of industry associations like Tourism Cares, Adventure Travel Trade Association, National Tour Association, and the US Tour Operator Association.  Malia is not only an inspiration for women in travel, but also for working in tourism.  She refused to accept the status quo, and I guarantee that if you are fortunate to hear her present at an industry event you will notice that she is there because she deserves to be there. Jordan is lucky to have her as a tourism ambassador.
Marco Ramazzotti
Among those that are actively contributing to the discussion around gender equality in tourism, there is the founder of Gender Responsible Tourism (GRT), an organization born to empower women through tourism. Iaia is a freelance journalist who choses to use her voice to amplify that of the often-overlooked female tourism workforce. GRT is trying to keep an open conversation about women in tourism and showcase the huge number of responsible tourism projects around the world that are run by female entrepreneurs. As they state in their vision, "We want more tourists to visit places where women are deservedly the ones who receive them, sell artisan products, cook, offer tours, educate them about their culture, manage, and are involved in decision making at all levels of tourism processes." Iaia also co-edited the second edition of The New Independent Women Travelers Guide which displays destinations, itineraries, stories and experiences around the world of female entrepreneurs for female travelers. The guide is currently only in Italian, but an English version is on the way.
—
Social inclusiveness has become a foundational pillar of Solimar's sustainability strategies, and one of our missions is to remain committed to building strategies that facilitate more opportunities for women, and especially women-owned small business enterprises. Follow us on Facebook to continue learning about these strategies, as well as the glass-ceiling shattering women of tourism.